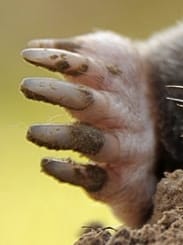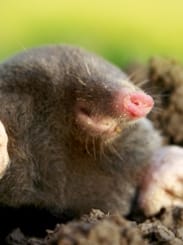 Mole (Talpa Europaea)
Proving date: October 2012
Proving completed by: Misha Norland, Mani Norland & The School of Homeopathy
Common name: Mole
Case: Read a case of Mole
Read full proving here: Mole (Talpa Europaea)
Introduction
The Source of Mole
The mole came to us gratis, up out of our lawn, and was bagged thanks to our cat's alacrity: a sudden pounce and the deed was done. I chopped off his paws (for he was male) and pickled them in a small bottle containing absolute alcohol. There they remained in the dark and the cool for some years awaiting the day of the proving. The tincture was run up to 30c potency in the classroom (substance unknown to provers), with provers taking turns at dilution and sucussion, using Korsicovian methodology. The final potency of 30c was used as the proving dose. As is our custom at the School of Homeopathy, just one dose was taken. Proving diaries commenced from this point, as did one-to-one supervision, and continued for two months.

The Mole in Nature
The mole, because of its underground habit, is a creature we know little about, yet its very visible molehills evoke a universally negative response, "Get rid of that mole!" Until recently, and the advent of video-aided research, scientists have had limited information about the mole due to the impracticalities of studying them in vivo – the chief reason being that they gobble too much food to allow for a viable period of observation in captivity. They gather and guzzle in an almost non-stop cycle to fuel their incessant labour of tunnelling. They can excavate 25 meters a day, and continually tunnel to renovate and extend their home and larder. They are by far the most industrious of mammals! They work in a shift pattern of 4 hours at a stretch; during periods of rest, moles will either sleep or consume the food needed to keep going for the next work stint. The mole's upper body and strong spade-like front limbs are perfectly designed for moving heavy soil and when digging, a specialised bone structure allows the mole to project a lateral force equivalent to 32 times its body weight.

The mole is a solitary creature, except in circumstances where a group are forced to co-habit in neighbouring tunnels, or when female moles are on heat. Apart from these occasions, moles are extremely territorial creatures and have been known to fight to the death. The mole is the only known mammal in which the female has been found to possess features of both female and male reproductive organs. The mole produces very high levels of testosterone, which may account for their aggressive nature and look-alike external features. High testosterone levels promote bone growth that link to the evolution and development of a sixth digit that is in fact a modified wrist bone.

The gestation period for female moles is 4-6 weeks and they will give birth to 3-6 live young each year. After just a few months of growth, adolescent moles will be totally self-sufficient and will leave the adult home to find residence elsewhere, taking over unoccupied tunnel systems or digging their own. It is during this crucial time that they venture above ground and become vulnerable to predators such as stoats, owls, foxes and badgers. Moles have been known to live to the age of 6 years provided they are not picked off by predators or killed by humans, most live for 4 years.

The physical form of the mole lives up to its Latin meaning of 'massive heap' or 'large mass'. It is not that massive though, typically being a mere 12 cm long. Its fur is black and velvety allowing the mole to move both forwards and backwards through the underground passageways with ease. The mole has poor eyesight but can differentiate between light and dark. Its other senses are extremely heightened to compensate for this, for example, the mole has ultra-sensitive whiskers on its pointed pink snout, a highly accurate sense of smell and it is able to sense the slightest of underground vibrations. This allows gardeners to discourage moles from an area by submerging vibrators. Moles can tolerate higher carbon dioxide levels than other mammals, permitting them to survive underground for extended periods. They have modified red blood cells with augmented haemoglobin. Some biologists have speculated that moles have magnetic sensors in their nose, enabling them to move with precision and purpose around their underground homes. As yet there is no clear evidence in favour of this hypothesis.

The mole's appetite is colossal; it needs to consume 70-100% of its body weight per day. Because of this, the mole needs to store enough food to keep it going. Earthworms are the main source of food, especially during the winter months, but it will eat all manner of insect larvae and grubs dependant on availability. To ensure that it has a sufficiently fresh supply of food, the mole will bite the head of a captured worm, rendering it immobile while still alive.

Moles are most commonly found in fertile soil with adequate drainage; however, they are good swimmers and can escape from flooding. The mole favours deciduous woodland as its habitat, and grassland, where its burrowing habit and molehill production, may create conflict with farmers and gardeners. Many people are unaware that molehills are created only once, while the creatures establish or extend their home. An adult mole will only come to the surface of its underground habitat to collect materials for a nest. During this time a much larger molehill (called a fortress) will be created under which the mole will rear its young. The deepest tunnels are used during times of extreme weather, for example cold or drought. If left to their own devices in a well-established tunnel system, most people would scarcely notice the many moles residing underneath their land.

At present, the mole has no legal protection in the UK. They are not protected by conservation legislation, only having basic protection from cruelty under the Wild Mammals Protection Act 1996. Moles are prone to being poisoned and trapped, a practice that is widely practiced even though in the long run, it is ineffective. New moles quickly move into old tunnels!

The Mole in Literature
The depiction of Kenneth Grahame's industrious, initially solitary yet loveable character fits with what we know about this creature's behaviour and habits. In the opening chapter we see mole frantically spring-cleaning his house, mention is made of his aching back and arms, which bear the brunt of most of the mole's activities. An air of 'discontent and longing' is hinted at throughout the novel. Mole's journey of discovery lies in his realisation that there is a whole other world above his dark, underground sanctuary.

The Mole in the Chinese Calendar
According to Chinese tradition, moles are born during the Chinese zodiac's year of the sheep. It is believed that people born at this time are generally hardworking and loyal, but have a tendency to take things to heart, easily becoming offended. They will put on a front to hide this but are plagued by feelings of self-doubt. They work best when striving towards a goal or purpose, they want to 'get it right' all of the time. They are extremely strong both physically and mentally, often more so than anticipated by those around them.

The Mole in Mythology
The story of how the mole came to be underground is told in a Cherokee folk tale. Here the mole is depicted as a shifty, untrustworthy character who puts a deceitful plan into action and when confronted about the consequences of his actions, retreats to his underground sanctuary in fear of punishment.

The Mole in Espionage
Within the realm of espionage, the mole is somebody who works for an organisation whilst continually feeding information to a rival from within, posing as an ally to the original establishment. By his or her very nature someone who is to succeed as a mole must be deceitful and cunning. They must be well practised in the deception of others in order to gain their friendship and trust. The fact that the mole is acting mainly alone and does not care for allies can be linked to its animal counterpart, in so far as the animal works alone and has been observed to be fiercely territorial towards others of its kind.

Misam
We need cured cases to confirm, but suggest Ringworm miasm in Rajan Sankaran's schema, and stage 8 in the periodic table.

Differential Diagnosis
Considering unremitting work, "got to get it done" personality, tunnelling habit and sensation of compression, would take us to Ferrum and its salts, and row four metals in general and their respective salts.

Of course general themes of all mammals arise, especially its closest relative, as yet unproved, the shrews. We will differentiate primarily from other mammals on the uniqueness of the mole family: constant activity, huge energy, relentless pursuit of territory… and add to these concepts, the fact of high testosterone levels in both sexes, and come up with a highly industrious personality, like Nux vomica. Unlike the typical Nux vomica though, most provers felt quite calm in relation to things they needed to do that previously might have riled them – action with a Zen-like clarity rather than with a 'must do it', driven imperative, yet with the desire to do the work all day long until the job was complete.
Continue reading the full proving here: Mole (Talpa Europaea)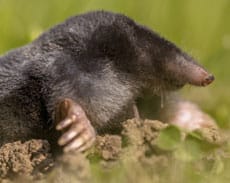 Productive/Industrious
Calm/Grounded/Equanimity
Detached/Apath
Numb/Paralyses
Claustrophobia/Trapped
Seeks
Isolation
Tunnels
Anger/Violence
Bullied/Self loathing
Time almost stopped
No pressure of time
Carefree/Happy
Decapitation/Severed
Energy - Fluctuating
Guilt
Lack of direction
Natural vs. Manmade
Pregnancy/Babies/Menstruation
Sexual Desire
Tipsy/Giggly
Water




Proving Themes
Kingdom: Animalia
Phylum: Chordata
Class: Mammalia
Order: Soricomorpha
Family: Talpidae
Genus: Talpa
Species: Talpa Europaea



Kingdom Taxonomy
The mole produces very high levels of testosterone, which may account for their aggressive nature and look-alike external features. High testosterone levels promote bone growth that link to the evolution and development of a sixth digit that is in fact a modified wrist bone.