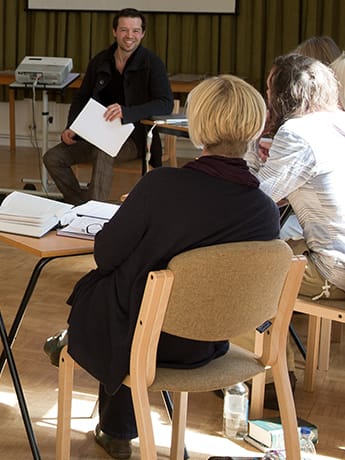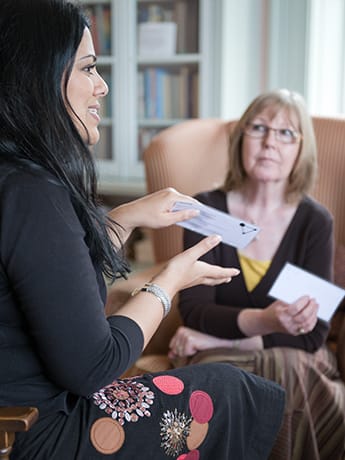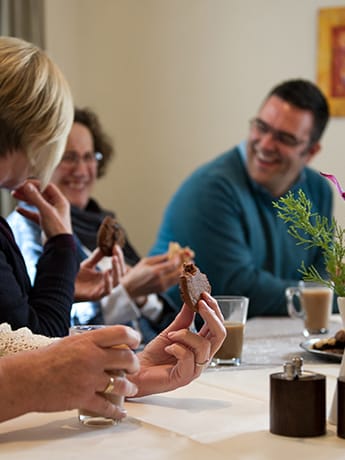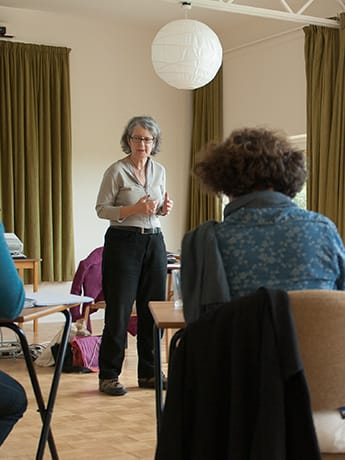 Faculty
A major strength of the School is the diversity and experience of its faculty. Many of the most knowledgeable homeopaths in the UK teach at the School. Their wide-ranging skills combine to provide you with the highest standards of teaching, assessment and support. They are all active homeopaths who continue to increase their already considerable expertise through many channels of Continued Professional Development as well as their everyday practice.

Attendance Core Team:
The core team is responsible for the major decision making and running of the School. As a student, you are encouraged to contribute to this team management via your elected group representative.

Mani Norland BA (Hons), DSH, PCH, RSHom, Principal
Luke Norland DSH, RSHom, Proving Coordinator, Teacher
Karen Leadbeater DSH, PCH, RSHom, Clinical Teacher
Janet Taylor DSH, RSHom, Year Head, Teacher

Em Colley MARH, Clinical Supervisor
Amanda Norland BA (Hons), Applications
Jennie Stickland, Educational Administrator
Elaine Powell, Administrator
Jo Roberts, Finance


Teachers (On Site, Movie & Audio)

Bob Blair
LCH, PCH
Qualified 2001

Bill Rumble
DSH, RSHom
Qualified 1988
David Mundy
LCH, FSHom
Qualified 1978
Elaine Watson
LBSH

Qualified 1995
Em Colley
MARH
Qualified 2007

Geoff Johnson
DSH, RSHom
Qualified 1998
Janet Taylor
DSH, RSHom
Qualified 2011
John Morgan

M.R.Pharm.S

Qualified 1985
Jon Didymus
DSH, RSHom
Qualified 1999
Karen Leadbeater
DSH, PCH, RSHom
Qualified 1998
Katja Behrens
DSH
Qualified 2012
Luke Norland
DSH, RShom
Qualified 2018

Mani Norland
DSH, PCH, RSHom
Qualified 2009
Mary Sharma
ND, DNMed
Qualified 2002
Nick Taylor
DSH, RSHom
Qualified 1984

Clinical Supervsior

Em Colley
MARH
Qualified 2007
Teachers (Movie & Audio)
Alistair Gray
DSH, PCH, PCHom
Qualified 1993
Alize Timmerman
Qualified 1980
Bhawisha Joshi
MD (Hom)
Qualified 1998
David Curtin
MB, BS, MFHom, PCH
Qualified 1978
Dinesh Chauhan
BHMS, Mum.
Qualified 2000
Farokh Master
MD (Hom)
Qualified 1980
Frans Vermeulen
Qualified 1979
Janet Snowdon
LCH, FSHom
Qualified 1981
Jan Scholten
MD
Qualified 1985
Jenny Grist
DSH, PCH, RSHom
Qualified 2002
Jeremy Sherr
RSHom, BA
Qualified 1980
Jo Daly
DSH, CHC
Qualified 1984
Jonathan Hardy
MA, BM, FFHom
Qualified 1986
Linda Johnston
MD
Qualified 1986
Linda Gwillim
MCH, RSHom

Qualified 1991
Massimo Mangialavori
Qualified 1985
Michal Yakir
PhD, RCHom
Qualified 1982
Miranda Castro
RSHom (NA), CCH
Qualified 1983
Misha Norland
Founder
Qualified 1973
Murray Feldman

MCH, RSHom

Qualified 1977

Penny Stirling
DSH, RSHom
Qualified 1988
Rajan Sankaran

MD (Hom)

Qualified 1981

Shachindra Joshi

MD (Hom)

Qualified 1997

Steven Cartwright
PhD, RSHom
Qualified 1988
Clincal Observation


Sam Adkins

Adv Dip Hom (Syd)

Qualified 2003
Sarah Saunders
Adv Dip Hom

Qualified 2021
Tutors
Beverley Nickolls
MA, DSH, RSHom
Qualified 2007
Carmel Searson
DSH

Qualified 1992
Catherine Sleigh
DSH, RSHom
Qualified 2005
Elaine Watson
LBSH

Qualified 1995
Janet Taylor
DSH, RSHom
Qualified 2011
Jude Wills
POCH, RSHom
Qualified 1985
Judith Mapleson
BSc, PDHom (UK)
Qualified 1999
Karen Leadbeater
DSH, RSHom
Qualified 1998
Katja Behrens
DSH

Qualified 2012
Lindsay Samuelson
DSH, RSHom, ND

Qualified 2013
Lissi Sigillo
DSH, CCH, RSHom, NA
Qualified 2019
Machteld Van Haeften
DSH, PCH

Qualified 2012
Nick Taylor
DSH, RSHom
Qualified 1994
Nici Holland
DSH, MARH
Qualified 2017
Phil Wright
DSH, RSHom
Qualified 2003
Sally Tamplin
MARH, DSH, PCH
Qualified 2002
Supervision Partner
Sheila Ryan
DSH, FSHom
Qualified 1988

Provings Partner
Luke Norland

DSH, RSHom

Qualified 2018

Attendance Core Team
Mani Norland, BA (Hons), DSH, PCH, RSHom
Mani Norland is Principal at the School of Homeopathy. He is Misha Norland's eldest son and grew up with homeopathy all around him. He trained with the School, and practices from his clinic in Stroud. He develops and manages the School in conjunction with members of the core team. Other responsibilities include interviewing students, the teaching timetable, preparation of teaching materials, hiring teachers and staff, running the School clinic. In addition, he is responsible for the School brand, marketing and promotion. Mani is also the Managing Director of The School of Health, a business that manages home study courses and books.

Mani is a founding member of Homeopathy Course Providers Forum and a founding member of the 4Homeopathy (the pro homeopathy group of 11 organsations in the UK). With this group Mani has been instrumental in the re-branding of homeopathy in the UK with the development of a new logo, the findahomeopath website, celebrity campaigns and media intervention. Mani also teaches students in the 4th year about setting up in practice. In his 'other life' Mani worked in London as a brand and business consultant for over 10 years. He advised board level directors on business creation, vision and image. Mani is passionate about the positive promotion of homeopathy to the general public and has written many consumer facing articles on homeopathy, lectured internationally and been interviewed on BBC radio several times.

Amanda Norland, BA (Hons)
Amanda Norland is Course Manager at the School of Homeopathy. In 1999, she started her homeopathic training alongside Mani at the School and they now both run In-Light Limited, which includes the School of Homeopathy and The School of Health. Amanda's primary focus in the School is people, she looks after student and staff wellbeing and all course enquiries. Amanda originally trained in graphic design, qualifying with an honours degree in 1990 and she enjoyed fifteen years in the creative world, growing from magazine designer, art director, interior designer to design director. Her natural ability and love of coaching and nurturing people culminated in her becoming 'Head of Talent' at the design consultancy 20/20, where should looked after the extensive design team's wellbeing. Her role involved hiring the best people, reviewing and managing their progress, with the aim of fulfilling each individual's creative potential and life goals. This work continues at the School where Amanda is passionate about helping students and staff to get the most out of the courses.

Karen Leadbeater, RSHom
Karen graduated from the School in 1998, and has since maintained a close link through mentoring and supervising students. More recently she has lectured regularly at the School with a focus on casework, and also works with students on the international home study programme. After establishing a busy practice in Bath, Karen relocated to Dartmoor in 2005. She now practises and supervises students from her clinic in Tavistock, Devon.

Luke Norland, RSHom
Luke has a homeopathy practice in Frome and Bristol, combining this with his role as the UK coordinator for RadarOpus and his teaching work at the School of Homeopathy. He has already gained valuable experience working with the school's provings, compiling rubrics for the new remedies; Carbo fullerenum, Passer domesticus, Fulgurite, Galium aparine, Clupea harengus & Meles meles. This grounding in the repertory and provings has become an essential facet in Luke's process of finding a similimum for a diverse range of patients.




Janet Taylor, RSHom
As a graduate of the School of Homeopathy, Janet practices as a homeopath in Plymouth and in Cornwall where she lives. She is also a tutor on the attendance and home study programmes and a clinical supervisor for students moving into supervised practice. From her background in education she loves the fact that her role with the School brings together her homeopathy and mentoring experience. She uses a synergy of different 'tools' to prescribe for her clients drawing on her study at the School and continuing CPD, particularly benefitting from 3 years in a study group with Graz Baran on the Joshis' approach to Sensation Method.


Jennie Stickland (Administrator)
Prior to working at the School Jennie worked in administration as a Sales/Order Operational Advisor which involved looking after a large customer base, she stayed in the role for 14 years before joining the School. Jennie maintains the School databases and keeps all records up-to-date. She ensures all paper and electronic filing is completed and looks after and updates the website. She provide students with information and electronic versions of school documents, she also sets up meetings, organises agendas, takes minutes and circulates information after meetings.



When I embarked on this field of study, I had no idea of the profound effect it would have on my life in every regard. I have learned so much in a completely holistic sense and in so doing I have learned about myself and my own values. This course is not only about studying the fine art of homeopathy, it is about life. This course has led me to places I could never have imagined for myself, plus I have had a lot of fun in going there!



Susan Price, Graduate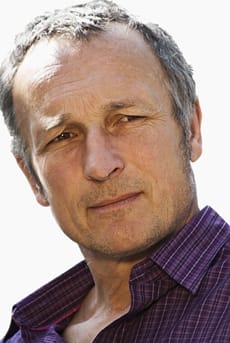 Homeopathy is simple. All you have to do in your consultation is perceive something from nature in your patient. You can hear it in their story, see it in their actions, and sometimes you witness it appearing in the space between you and them. That is the remedy they need, and if it is the right one, wonderful things can occur after you give it. This extraordinary phenomena is something a homeopath can witness every day. Homeopathy not only connects you to your patient, but to nature too.



Geoff Johnson, Teacher