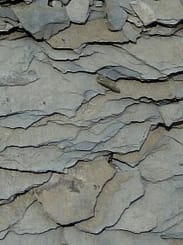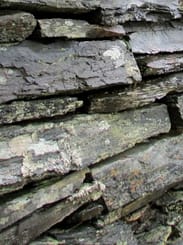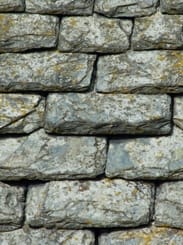 Slate (North Wales Slate)
Proving date: 1996
Proving completed by: Misha Norland, Andy Brachi, Jenny Hill & The School of Homeopathy
Common name : Slate
Read full proving: Slate (North Wales Slate)

About North Wales Slate
Slate is a fine-grained, foliated, homogenous metamorphic rock that derives originally from shale- type sedimentary rock composed of clay or volcanic ash. The Welsh slate industry began during the Roman period, when it was used to roof the fort at Segontium now called Caernarfon. The industry grew slowly until the early 18th century but then expand rapidly until the late 19th century. During this time the most important areas producing slate were in North West Wales, where slate was mined not quarried. Penrhyn and Dinorwig were the two largest slate quarries in the world and Oakeley mine was the largest slate mine in the world.
Slate is mainly used for roofing, but can also be used in thicker slabs for other uses such as flooring.
Up until the late 18thcentury slate was extracted by quarry men on a minor scale, they paid a royalty to the landlord, they carted the slate to ports and shipped it to England, Ireland and France. This took a turn when landowners began to operate the quarries themselves. The government abolished slate duty in 1831.
The narrow gauge railways were built causing rapid expansion and the railway being used to transport the slate to the relevant ports. The economy of the Northwest was dominated by the slate industry in the late 19th century. In 1898 seventeen thousand workmen produced half a million tons of slate. Between 1900 and 1903 an industrial dispute at the Penrhyn quarry led to a decline in slate. During the First World War the number of men employed by the industry saw a dramatic decrease. Whilst the great depression led to the closure of many small quarries. The competition from other roofing materials saw the closure of most of the larger quarries during the 1960's and 1970's.
The term slate was also used for various objects made from slate rock from a single roofing tile to a writing slate. This was traditionally a smooth piece of rock, framed in wood and used with chalk to record charges in pubs and inns. The term 'clean slate and 'blank slate' derives from this use.
Slate is extremely durable for the use in buildings and can last for several hundred years. It has low water absorption, which makes it resistant to frost damage and breakages in freezing temperatures with natural slate also being fire resistant and energy efficient.
Today slate has many uses from interior and exterior flooring, stairs, walkways and wall cladding. It has other uses too, it is a good electrical insulator and is fireproof, and was used to construct early 20th century electric switchboards and relay controls for large electric motors. It was used for laboratory worktops due to its thermal stability and chemical inertness. As many of us know from our school days slate was also used as a black board during teaching, and in areas where high quality slate was available it was used for commemorative tablets and tombstones.
History
The Diffwys quarry was the first largest quarry in the area (1720). The landowners allowed individuals to quarry there for a yearly rent and a royalty on the slates produced. The first landowner to take ownership of his working slates was Richard Pennat. Lord Penhryn opened a quarry during the same year and by 1792 was employing 500 men and producing 15000 tons of slate per year. Other quarries in Wales went in the same way and were bought by the landowners or under other management. In 1974 the government imposed a 20% tax on all slate sales causing the Welsh producers to be at a disadvantage as the inland producers could use the canal network to distribute there products. No tax was put on slate going overseas. In 1831 slate duty was abolished, by 1843 the Padarn railway became the first quarry railway to use locomotives to transport slate. Other railways lines soon followed in pursuit.
Machinery was gradually introduced to make it easier and this was implemented at Blaenau Ffestiniog slate here was less brittle. The slate mill evolved between 1840 and 1860 and was powered by a single line shaft that ran along the building bringing together operations such as sawing, planning and dressing. John greaves invented the greaves-sawing table to produce blocks for the splitter. In 1879 a period of uninterrupted growth came to an end when the slate industry was hit by a recession. By 1892 growth began to rise and this was mainly from the Blaenau Ffestiniog quarry. However in 1917 slate quarrying was declared as none essential industry and a number of quarries were closed for the remainder of the First World War.
The out break of world war two led to a severe drop in the trade and the number of men employed in the slate industry dropped substantially. The demand for slate dropped as imports from, France, Italy and Portugal increased. The decline of slate dropped in wales and in 1955 the Diffwys quarry at Blaenau Festiniog closed. With further quarries in Wales following in suit. By 1972 the number of men employed at the North Wales quarries were down to under a 1000, with little alternative employment in the slate producing areas, resulting in the high number of unemployment and population decreasing, due to young people moving away to find work. During the 1980's there was an increase for demand of slate, with production coming from Blaenau Ffestining area. To date the Penrhyn quarry is still producing slate and is owned and operated by the Welsh Slate Ltd. Its opponent the Greaves Welsh Slate Company produces roof slates and other slate products from Llechwedd quarry.
Folklore /Mythology
Curses were commonly inscribed on slates, and cursing wells were also not uncommon in Wales but for it to be effective it had to have a northern exposure. With Slate being considered appropriate material for cursing, possibly due to its leaden colour. At the Anglesey 'cursing well' they would present the slate with the name of the person that they wanted to be cursed. The curser would then crawl around the well against the path of the sun, uttering appropriate curses.
Cultural
The welsh slate industry was predominantly a Welsh speaking industry, with the majority of the work force being from local areas of North of Wales. The industry had considerable effect on the culture of the areas surroundings the quarries, but also for Wales itself. 'Caban' or as we know it 'Cabin' was where the quarry men would gather for their lunch and was often a scene of many discussions, that would be formally minuted. Eisteddfodau is a welsh festival of literature and music, these were held and poetry was composed and discussed, with the larger quarries even having their own band.
Read full proving here: Slate (North Wales Slate)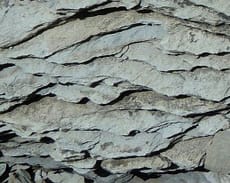 Unity/wholeness
Balance/harmony
Splitting apart/dividing
Empathy protection from danger
Enclosed places/small rooms
Darkness and underground
Colour/cloth dresses
Dust/fog/haze
Punishment
Forced against one's will
Conflict
Harmony turning to conflict
Violence/danger
Dirt/waste/poverty
Injury/hospitalisation/hospitals
Skiing
Open lovely landscapes



Proving Themes
Primary: quartz,muscovite/illite
Secondary: biotite, chlorite
hematite, pyrite
Specific Gravity: 2.7 - 2.8



Composition
The term slate was also used for various objects made from slate rock from a single roofing tile to a writing slate. This was traditionally a smooth piece of rock, framed in wood and used with chalk to record charges in pubs and inns. The term clean slate and blank slate derives from this use. Slate is extremely durable for the use in buildings and can last for several hundred years.