Just One Drop - A movie about homeopathy
Don't miss another chance to see Just One Drop showing in Stroud, and this time with the comfort of a screening at Vue cinema. There are less than a hundred seats, so we wouldn't want you to be disappointed.

Just One Drop tells the little known story of homeopathy: the most controversial system of medicine. To many, homeopathy seems implausible. They fear it is purely a placebo effect or worse, a form of deception or quackery. Yet, homeopathy has been around for over 200 years and is used by millions of people around the world. The film explores the controversy, reveals the rich history, dispels myths and misconceptions, and asks whether or not homeopathy been given a fair shake.
Just One Drop may not end the controversy but it will help more people find a solution for many chronic conditions that conventional medicine has no answer for. Just One Drop deserves a wide audience in a time with an increasing need for better health care solutions. The Optimist Daily
Vue Cinemas Stroud, UK
Wednesday 15th November
7:30pm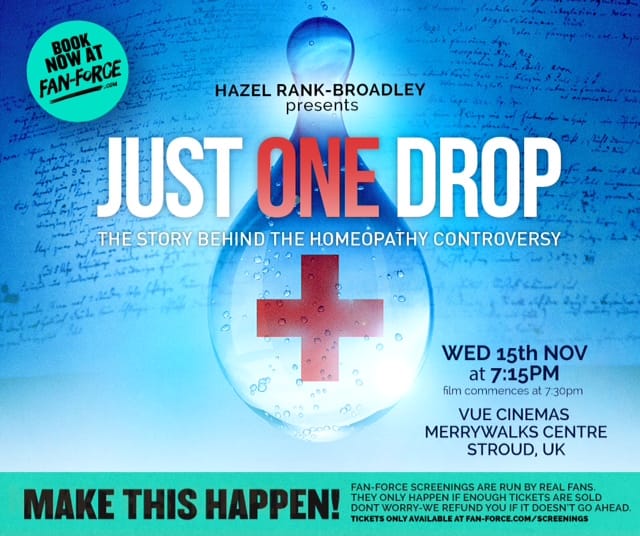 About the host: Hazel Rank-Broadley RSHom.
I've been practicing homeopathy for nearly thirty years now, since I was first a mum. I've been lucky enough to have a healthy family, or was that because we ate good food and used homeopathic medicine when anyone got ill, and we kept our stress low? I've helped other adults and children be well, both with minor ailments and when 'stuck' with chronic ones.
Maybe you're not quite sure what homeopathy is, but you want to be better informed about your health options. I believe everyone should be responsible for their own health, and have the opportunity to use safe medicines, and have access to knowledge about them.
After the film we'll have a Q. & A session with practicing homeopaths. Expect a lively discussion.
This entry was posted on 18 October 2017 at 15:10 and is filed under Homeopathy.