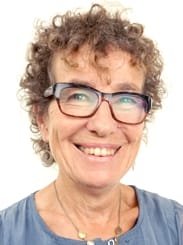 Janet Snowdon, RSHom
One of our most popular senior lecturers, Janet has been in practice for over 35 years. She has studied with many leading homeopaths including George Vithoulkas, Jayesh Shah and Rajan Sankaran. Sankaran has provided her with an insight into practice which she has made her own and with which she enchants us as she teaches cases. She has a busy practice in Bath, England and has also been involved in proving new remedies. Practical and with a deep appreciation for the mystery of healing, Janet offers many insights into the topics of her teaching, and is an inspiration in her readiness to be amazed and delighted.
Janet said, One of my children was very ill as a very small baby and she wasn't getting better and I came to homeopathy she was given some little white pills and within two weeks I had bouncing healthy baby. At the same time my mother was dying of cancer it was too late to do anything for her even though anybody had agreed to it but she was not very treated by the medical profession and I had begun to wonder and my thought was that there must be a better way of doing this so those were the two reasons.
As I then took the children and all of us to homeopathy and I just became more and more interested in it, and then heard of Thomas Maughan and went to his classes for the last two years of his life where I said absolutely nothing because he was terrifying he was inspiring but terrifying man, and then after he died two of his pupils, Martin Miles and Robert Davison set up the first college of homeopathy and because I had been learning it piecemeal because of babies and it was not, I knew I needed some proper structured teaching which is what I got there actually, a very good grounding and the basics of homeopathy.
What do you enjoy about your practice?
I practice in Bath and I use mostly the sensation I mean I always take a sensation case but I use other methods as well I always use a repertory I can't work without the repertory and other knowledge one gleans from different people from friends from colleagues from students all come in to the mix to help you find whatever remedy you need for the patient. Now I teach mostly only in Britain but I have taught around the world over the years.
What is your favourite subject within Homeopathy?
Its just always exciting because there is always something different, you can never learn it all there are always things to learn, there are always surprises and its just that feeling of excitement that doing homeopathy gives and at the same time as it being very satisfying for oneself and giving one that sort of joie de vivre you know that it's a useful thing to be doing and that you are helping people and it's a great feeling. Now I have been in Bath for 30 years I see young people whom I treated as tiny children with an ear infection, and chests and coughs bring their children back to me and I think gosh that's another generation of children being brought up with homeopathy and that is a really satisfying that is one of my favourite parts of my practice now are these young people bringing back their children, because they remember even when they were teenagers they wouldn't come and see me because you know, that kind of thing but they do remember that as children their ear infections got better and they want that for their children, so that's something that's really important to me.
What is your favourite aspect of teaching Homeopathy?
Well teaching is fun, I like interaction with the students actually and you know they question you what you do, and they again make you think things differently because you teach what you know and what you think you know and somebody will ask you a question and you will think well actually I hadn't thought of that, I don't know, so you learn again from actually teaching the students and its just a good interaction, these are people who are coming up these are the homeopaths of the future and again you feel you are giving something to homeopathy not just now but for the future so it can continue to grow and develop.
What are your thoughts about the School of Homeopathy?
I love teaching at the School of Homeopathy because it's a good body of people generally and the course is never totally static its ideas are listened to, suggestions are listened to, things are improved and I can see in the time that I have been in Stroud that things are moving in the right direction in terms of giving the students, equipping them with the tools of basic homeopathy they need in the four years they study here and then they can go on to do all sorts of complicated things and all the other things that are coming into homeopathy all the time and should do and hope they always will, but they should have the basic tools of homeopathy which have endured the test of time and which they must have to become homeopaths and that basic grounding is there.
I like doing the clinics more than any teaching than I do anywhere and its partly because its so honest, you are not saying anything to the students about what you do, they see what you do, they see you fail, they see how difficult it is seeing patients, they see how one struggles, how the patient are not always, sometimes they don't turn up, all the things that happen in day to day practice which you don't see when you bring your video cases, and they see the realities of it and it feels like a really really useful thing for the students to do and because I have the students for two years they come in the third year and I am doing the clinic long enough now by the time they get into the fourth year their confidence has increased enormously and they become almost like colleagues, and I will say to them what are we going to do now, as if I am with some colleagues because their ideas are worth listening to, because they have really got it having done the clinics for a year, so it's a very good relationship with the students actually, you feel like that it's a two way street.
Well teaching is fun, I like interaction with the students actually and you know they question you what you do, and they again make you think things differently because you teach what you know and what you think you know and somebody will ask you a question and you will think well actually I hadnt thought of that, I dont know, so you learn again from actually teaching the students and its just a good interaction.



Janet Snowdon