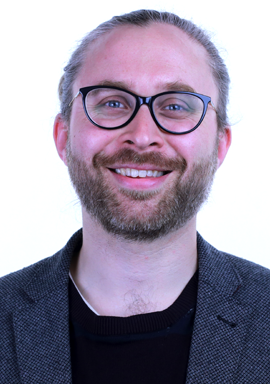 Luke Norland
Luke grew up sharing his family home with the School of Homeopathy and has been immersed in the homeopathic way of life since he was born into the world! Having first studied classical music in London, his career path eventually brought him back to his roots in the healing arts, via training and working as a massage therapist. He is particularly interested in the active-listening role of the homeopath, providing a space for people to tell their truth and explore themselves free from any prejudice. Homeopathy is a gift to study and teach because it provides a way of understanding human nature which extends far beyond the scope of treating illnesses; by recognising that our own characteristics have a resonance with sources in the natural kingdom, we can learn to reconnect with nature and heal ourselves.

Luke has a homeopathy practice in Frome and Bristol, combining this with his role as the UK coordinator for RadarOpus and his teaching work at the School of Homeopathy. He has already gained valuable experience working with the school's provings, compiling rubrics for the new remedies; Carbo fullerenum, Passer domesticus, Fulgurite, Galium aparine, Clupea harengus & Meles meles. This grounding in the repertory and provings has become an essential facet in Luke's process of finding a similimum for a diverse range of patients.

Luke is looking forward to being involved in the school's future provings; supporting provers on their journeys to discover a new remedy will be richly rewarding. It is also a satisfying task editing the resulting wealth of information; finding themes and extracting rubrics so each new proving can be understood and used by the wider homeopathic community. He delights in teaching the fundamental principles of homeopathy (he first read the Organon whilst on holiday!) and how to use the repertory effectively (learn to speak like Yoda!).

Since completing his diploma in holistic massage in 2010, Luke went on to train in sports and Thai massage and has been treating patients for a wide variety of health conditions for almost 10 years. Luke's first training was as a classical musician; playing the French Horn since the age of 10. Music has many parallels with the healing arts: most notably the sensitivity and awareness to 'tune in', the ability to learn and perfect techniques, recognise patterns and to maintain professional performance standards. His experience working as a chef has given him an enthusiasm for understanding nutrition and the importance of digestion in maintaining health whilst his work as a massage therapist gives him an excellent grounding in all kinds of musculoskeletal complaints.

Luke is a dedicated French horn player as well as student of astrology and lover of nature. He enjoys playing in orchestras and bands and spent most of his twenties composing experimental electronic dance music! Since graduating from the course, he has been busy editing his own "Thematic Repertory" with new remedies and remedy families. Luke has also devoted his time to authoring a concise book that delves into the homeopathic themes of animal families, synthesising this with the school's teachings on mappa mundi and his own love of mythology. Luke's approach to homeopathy is to blend together the different disciplines of repertory, materia medica, provings and systems so that each case can be explored from an appropriate anchor point to suit the individual.
Professional diploma in Homeopathy: RSHom
Thai massage diploma
Holistic massage diploma
Classical music degree: BMus.
"A single symptom of disease is no more the disease itself than a single foot is the man himself." Hahnemann.
The School has an enthusiastic and committed team of teachers, offering a wealth of homeopathic experience. Each is a busy practitioner in their own right, and all are dedicated to sharing their knowledge, developing great homeopaths and improving the quality of life for students and their patients.



Mani Norland, Principle