Penny Stirling, DSH, RSHom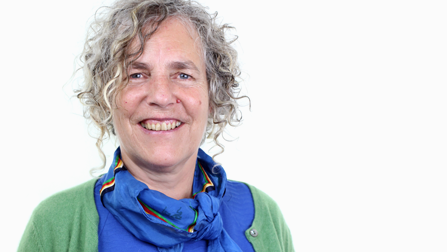 I came across homeopathy by "chance", if there is such a thing, 35 years ago. My husband was working temporarily in an office where a part time secretary was studying homeopathy. She gave a lunchtime talk, which he attended and came home saying, "Penny you would love this!" Having previously never stuck at anything very long, homeopathy has kept me fascinated and enthused ever since. What keeps me hooked is both the extraordinary results you can observe from a good remedy, leading patients to surprising life changes and those elusive cases which get me studying the new remedies and systems, about which I will never know quite enough as long as I live.

I currently work at two clinics, in Bedminster, Bristol and in Wells. I have a small, longstanding practice, with a trickle of new patients, as well as some longstanding patients and families that have seen me, sometimes over a couple of generations. I also enjoy supervising students and practitioners, teaching and, of course, studying.

I love the atmosphere at Hawkwood, where everything is new to the students and they are keen to learn. I enjoy finding ways of communicating what is new and exciting in my practice, in a way that students can be active learners. I am moved by the way that students grow and develop as people and practitioners

My experience is mainly from study and practice. Since attending an early seminar in Bombay with Sankaran and travelling around various clinics there watching him and his associates work, I have continued to keep up with his "synergy" was of working by following Wednesdays with Rajan online. I have also attended seminars with Scholten and Michal Yakir. I recently did a year's diploma course in supervision

In 2003 to 2008, I completed a part time art degree and I am currently engaged in two projects, one to do with dreams and the other to do with space and time. I love the artistic process and working with patients who are artists or musicians. I have studied Buddhism for the last 15 years and, as I get older, I am taking out more time for meditation retreats. I love to move and dance, particularly in nature, and have been very fortunate to work with an Indonesian artist and dancer Suprapto Suryodarmo, who has indirectly had a profound effect on my homeopathy practice. I have three grandchildren to play with.
Member of the Society of Homeopaths since 1988
Diploma in supervision from CSTD Bath 2015
"Life is what happens when you're planning other things."
The School has an enthusiastic and committed team of teachers, offering a wealth of homeopathic experience. Each is a busy practitioner in their own right, and all are dedicated to sharing their knowledge, developing great homeopaths and improving the quality of life for students and their patients.



Mani Norland, Principle