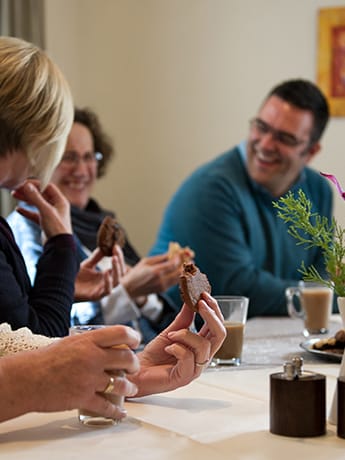 Our Purpose
That heart may sing and soul be healed; that mind may know and spirit be revealed!
We provide a non-confrontational learning environment, within which we may continue to discover ourselves and further develop our intuitive and reasoning faculties, so that new knowledge may be transformed into personal understanding.

We provide learning experiences from lectures, texts and diagrams, video and audio recordings, individual and group activities, and guided research projects, so as to acquire, appraise, and creatively extend our understanding and skills of homeopathic practise.

We provide models that help develop an understanding of humankind, and a philosophy for interpreting the significance of pathology (physical, mental, emotional and spiritual) from a vital and synergistic point of view.

We explore approaches that relate the parts to the whole.

We provide and maintain a safe therapeutic environment within which open case giving and non-judgmental receiving may take place while confidentiality of case material is safeguarded.

We evaluate homeopathic theory by the yardstick of clinical and proving evidence, so that knowledge is grounded in experience.

We develop skills of clear communication, logical argument and data analysis relevant to effective clinical work, patient care and management.

We foster self-reflective practice from which we may gain insight into our learning and psychological process as a formula for future professional development. In this we are guided by compassion and the practice of non-violence towards ourselves and others.

We provide an environment in which we may offer each other support and encouragement, so that we may all enjoy the fellowship that continues throughout our years of study together and on into professional practice.
The School of Homeopathy course has meant that I have been able to study classical homeopathy from one of the finest schools in the world, in my home. Misha teaches homeopathy in a poetic way that enables the student to learn organically. I have learned so much about homeopathy and about myself through his teaching. I recommend the course highly for anyone who is interested in learning about homeopathy and the deeper meaning of health.



Nancy Saunders, Graduate