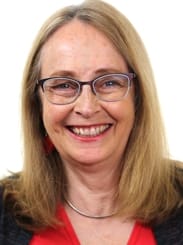 Jo Daly, CCH
Currently Dean of Education at the School of Homeopathy, New York, Jo began teaching in England in the 80's and then moved to the US where she was a founder of the Pacific Academy of Homeopathy. Jo has been in practice for over 25 years, has been a popular lecturer in many schools and her life and practice have been immersed in an exploration of the mystery of the human condition from physical to spiritual.
Finding homeopathy
When I had my first child which was many years ago now, I thought you know, I really don't want to be giving this child antibiotics and all this kind of stuff for minor complaints, so I asked a friend of mine and she said "Why don't you try homeopathy", and I had no idea what it was so I got a book and the book happened to be "Alan's Key notes of Homeopathy", so I read this book and from the very minute I started reading about it I was gripped with interest so I started using it on my child, and on my other children and it was so wonderful it was so effective, we never needed antibiotics or any other medicines and I loved it so much and I started treating my friends children and I was just really interested as a hobby and then at a certain point I decided you know I want to study this seriously so I went to college and the rest is history. That's how it happened.
Studying Homeopathy
I was very excited to start studying seriously and it was a lot of study and I really delved into it and got lots of books and I was very excited, I had young children when I was studying so I had to study in the evenings after they were in bed, so it was the time of day that I really looked forward to that was my study time and I just was fascinated by these plants and minerals and animal remedies and what I was learning about them I just got more and more deeply passionate about what I was doing and learning as much as I could and you know I just feel like you never stop being a student of homeopathy you go on studying your whole life and learning more and more because its an endless passion.
Why Homeopathy
People come to Homeopathy for a number of reasons one is because someone they know or themselves they get treated with some problem that has been really troubling them and homeopathy helps them and then they really know that it's a deep healing therapy and they want to study for themselves or somebody they know has had a similar experience and its just when you see that kind of miracle happening you know it's the most powerful form of medicine and you just want to know more about it, I think people get gripped by a passion to study homeopathy and learn about these substances and how they can produce such incredible healing results in people.
I just feel like you never stop being a student of homeopathy you go on studying your whole life and learning more and more because its an endless passion.



Jo Daly