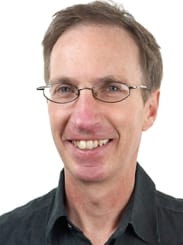 Jon Didymus, PhD, DSH, RSHom
Jon Didymus originally trained as a research scientist studying the way crystals form in living organisms. Since graduating from the School of Homeopathy in 1999, he has practiced in Bath at a GP surgery and at The Holistic Family Practice with his wife who is a medical doctor and herbalist. Jon is a keen student of the Sensation Method and fuses his scientific background with interests in meditation, counselling and supervision.

Jon says, Well I started as a patient when I was living with, I was finishing my PHD Thesis in Chemistry and I was living with a vet at the time and he was training as a homeopath and was very sceptical about it at first as most scientists are and I had terrible hay fever at the time and I decided to give it a go anyway because he was very enthusiastic about it, I am not sure it helped me that much at the beginning in terms of actual symptoms but I was really, I got really into the whole idea of being a patient and talking about myself something I think I enjoyed doing and self investigation and so I kind of got into it from that point of view.
What do you enjoy about your practice?
So I practice from home at the moment and I have practised at GP surgeries in the past which is a more clinical setting, more professional and safer in some ways but I have a wing of my house dedicated to my practice now, which keeps my family away from my practice which I think is really important and I think I have gained enough professionalism and clinicallness to work from home, in a slightly easier setting really, easy parking. So I work more or less part time working around looking after the children. I see people that come from as far away as London, treat people in Japan and overseas.
I think the most thing I love is seeing patients get better really, and really feel like you are making a different for people in more ways than just getting their main complaint better, seeing people really changing for the better and that's the most rewarding thing. Also when you see, when you can understand somebody in all their different ways and you can put it all together and understand it as a single whole that's really exciting as well.
What is your favourite aspect of teaching Homeopathy?
I really really enjoy teaching, yeah that's fantastic, I really enjoy teaching cases again its bringing things together and I really enjoy talking about disease and clinical syndromes and really understanding disease in the same way a GP would, so we have that common language, and thinking about it on a very objective utonian way, but at the same time linking it together with a patients story of their life with other ailments they have and then really linking it through to some deeper clinical experience they have. When they get into some deeper space which tends to bring those things together again and underlies those sort of things which I guess which we call the sensation or the essence or the whatever its called, but its really exciting being able to share that with students and share cases that illustrate that again the science and the art bringing them together and showing that they are not really separate things and I feel in some ways I am suppose a living proof that they aren't separate but at the same time I feel like I have suffered a lot over the years from struggling to integrate those two things together so teaching and practising are just other aspects of me enjoying integrating things together I think.
I really enjoy talking about disease and clinical syndromes and really understanding disease in the same way a GP would, so we have that common language, and thinking about it on a very objective utonian way, but at the same time linking it together with a patients story of their life with other ailments they have and then really linking it through to some deeper clinical experience they have.



Jon Didymus