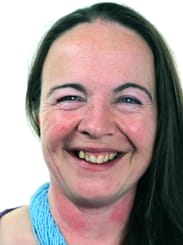 Karen Leadbeater, DSH, RSHom
My interest in homoeopathy started in the 1980's. I was in my early 20's and suffering from debilitating PMS, and a work colleague suggested I try homoeopathy. The PMS was healed and I was keen to find out more about homoeopathy, so took a local evening class. The tutor had trained at the School of Homoeopathy, so I enrolled on the attendance course in 1991, and the rest is history! I have always maintained strong links with the School of Homoeopathy, and have supported students via tutoring, supervising and teaching on the home study and attendance programmes. I love the fact that, whatever our background, we bring a personal dimension to the teaching and practice of homoeopathy: my first degree was in English Literature and Philosophy, and a love of language informs my practice of homoeopathy, reminding me often of the uniqueness of each person's experience and how they express it.

I have several roles at the School. With a clinical focus, I am the clinical supervision assessor and support students through the supervision process, overseeing their clinical portfolio work. I am a member of the School's Core Team. I also enjoy my regular teaching on the attendance course and tutoring on the Clinical Observation and Practice Building courses. Alongside my School of Homoeopathy work I run a busy professional practice from my home on Dartmoor and a natural health centre in Tavistock, Devon.

I am passionate about supporting students to build professional, fulfilling and sustainable homoeopathy practices in the real world. To this end, my aim as a tutor is to provide feedback and commentary that is challenging, encouraging and tailored to each student's needs.

I gained my practitioner Diploma from the School of Homoeopathy (DSH) in 1998, and have been registered with the Society of Homoeopaths (RSHom) since 2000. I have undertaken several supervision training courses with Sea Change and Sheila Ryan, in 2003, 2007 and 2011. From 2003-05 I also worked for The British School of Homoeopathy as a supervisor and external moderator. I attended the postgraduate Dynamis School for Advanced Homoeopathic Studies 2-year course from 2011-2013, obtaining PCH certification (Practitioner of Classical Homoeopathy) in 2013.

My love of literature was closely followed by a love of nature, and I worked for a number of years in environmental conservation, as well as engaging in environmental activism. I now live with my teenage daughter and two cats on the edge of Dartmoor, and deeply appreciate the peace, stillness and freedom of living close to nature. I am a keen amateur landscape and astrophotographer and archer and sing whenever I have the opportunity! I have an interest in psychotherapy, and in particular attachment theory, and how this can inform my practice of homoeopathy.
BA Honours in Humanities (Greenwich University, 1985)
Diploma of the School of Homoeopathy (DSH) (1998)
Registered with the Society of Homoeopaths (2000 onwards)
Sea Change Supervision Basic Kit (2007)
Sea Change Supervision Vital Kit (2011)
Post graduate Diploma from the Dynamis School (PCH) (2013)
"In the healthy condition of man, the spiritual vital force, the dynamis that animates the material body, rules with unbounded sway, and retains all the parts of the organism in admirable, harmonious, vital operation, as regards both sensations and functions, so that our indwelling, reason-gifted mind can freely employ this living, healthy instrument for the higher purpose of our existence." Organon of Medicine, Samuel Hahnemann. Aphorism 9.
I find teaching it endlessly fascinating and I learn such a lot. I mostly teach case analysis and in doing that we show the students real video cases and they are able to take those cases home and work on them when they return to the school we discuss the cases in class and the students can gain from group discussion as well as from the teachers experience.



Karen Leadbeater