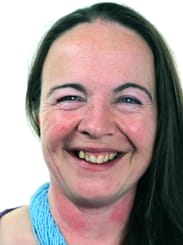 Karen Leadbeater, DSH, RSHom
Karen graduated from the School in 1998, and has since maintained a close link through mentoring and supervising students. More recently she has lectured regularly at the School with a focus on casework, and also works with students on the international home study programme. After establishing a busy practice in Bath, Karen relocated to Dartmoor in 2005. She now practises and supervises students from her clinic in Tavistock, Devon.

Teaching Homeopathy
Teaching Homeopathy is also fascinating it's a huge challenge, again people bring to the course all of their previous life experience and all that they have learnt and all the work they do in other fields and so I learn just as much as I teach and its something I can always use to succus my own practice, so take home what I learn from teaching and I use it in my own practice to enhance my own homeopathy. I find teaching it endlessly endlessly fascinating and I learn such a lot. I mostly teach case analysis and in doing that we show the students real video cases and they are able to take those cases home and work on them when they return to the school we discuss the cases in class and the students can gain from group discussion as well as from the teachers' experience.
Studying homeopathy
Learning homeopathy is fascinating because it encompasses the whole world it is possible to bring to it any of your life experience and previous knowledge from other backgrounds and its all relevant and its endlessly fascinating it's a life long learning.
The School of Homeopathy
Being a mentor for the school has been a great privilege because I am able to convey something of what I have learnt and support and encourage the next generation of homeopaths in their own beginning practises and that's a responsibility and privilege that I don't take lightly and I really enjoy it and it's a challenge and a learning experience for me too.
I find teaching it endlessly fascinating and I learn such a lot. I mostly teach case analysis and in doing that we show the students real video cases and they are able to take those cases home and work on them when they return to the school we discuss the cases in class and the students can gain from group discussion as well as from the teachers experience.



Karen Leadbeater