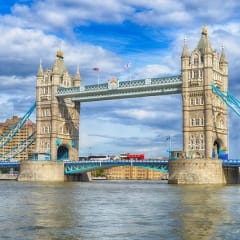 HRI London 2019: The biggest HRI conference yet!
We are very excited about HRI's 4th International Research Conference which will showcase the best homeopathy research worldwide.
The conference theme is 'Cutting Edge Research in Homeopathy' and it is taking place in London from 14-16 June 2019.
With key topics including clinical research, lab-based studies, pathogenetic trials and veterinary research, expectations are once again extremely high for this leading event in the homeopathy calendar.
Delegates can expect a fast-paced programme of the highest calibre research at a stunning location in the centre of London. Some of the highlights we are eagerly anticipating include:
Dr ELIZABETH THOMPSON – Chief Executive Officer & Lead Clinician, National Centre for Integrative Medicine, Bristol
Dr Elizabeth Thompson trained in medicine at Oxford University and completed her clinical training at Guy's Hospital in London. She has a passion for the integrative medicine model and how bringing conventional, holistic and lifestyle approaches together could transform modern healthcare.
Prof VLADIMIR VOEIKOV – Senior Lecturer, Lomonosov Moscow State University
Prof Vladimir Voeikov is renowned in the field of physical and chemical properties of aqueous systems providing their key role in vital processes in living systems, evaluation of the functions of water and water-born reactive oxygen species in bioenergetics.
Dr CLARE RELTON – Senior Lecturer, Queen Mary University, London
Clare worked as a homeopath from 1994-2013. From 2003-2008 she trained as a health researcher at the University of Sheffield, funded by the Department of Health. During her training Clare discovered a fascination for randomised controlled trials. She is currently a senior lecturer in clinical trials at Queen Mary University London, where she specialises in innovation in practical randomised trial design.
Mani Norland, Principal, School of Homeopathy, is on the HRI organising committee - we hope to see you there!

Check out the HRI Website for more info.
Tags: Homeopathy | Research | Evidence-base | Clinical Trials | Homeopathy for health | Cutting edge scientific research | Latest scienctific trials of homeopathy
This entry was posted on 22 March 2019 at 12:36 and is filed under Homeopathy | Alternative Medicine | Health | Research | Clinical Trials | Evidence.