21 August 2019 at 14:02
The TravelIing Homeopaths Collective (THC) has been going since 1990! It was setup to provide a mobile clinic to treat people with homeopathy and promote homeopathy at fairs, festivals and other outdoor occasions.
The THC treat thousands of people every year at many festivals including Glastonbury, Larmer Tree, Cambridge Folk Festival, and The Big Green Gathering.
Luke Norland writes about his first experience volunteering with THC:
"I was privileged to be part of the Travelling Homeopath's Collective (THC) representing our profession at Larmer Tree Festival back in July. Arriving in a deluge as the heavens opened, I hastily setup my tent in the pouring rain before returning to our lovely (and dry) marquee for my first shift and a well-needed cup of tea.
Following my day's induction, this was to be my first experience volunteering with THC, and I was straight away made to feel welcome and part of the team. We worked from 9am-10pm in two teams of 4 so that there was always a Homeopath available to offer acute treatments to festival-goers. Appointments usually lasted between 10 and 20 minutes with a suggested donation of £8 going directly to the THC charity.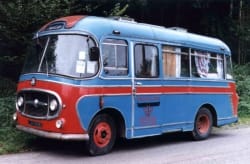 Lots of lovely folk drop in to complement Marcus on his magnificent bus, discuss how Homeopathy works, how marvellous it is or to learn what it actually is! We had a steady flow of patients who wanted to speak to a Homeopath about their ailments.
A music festival often combines a combination of ingredients that can bring on acute flare-ups for patients with longstanding conditions. Such as: lack of sleep; change of eating habits; the use of festival toilets; hedonism- excess alcohol and/ or drugs; too much sun or too much rain; sleeping in a damp tent… The list could go on!
The kind of conditions we treated included: hay fever; muscular aches and pains; chill; sun-burn; hangovers; toothache; abdominal bloating/ constipation/ diarrhoea; insect bites and stings; headaches etc. Some of the indicated remedies were Sulphur, Silica, Phosphorus, China, Arsenicum, Chamomilla, Ruta, Rhus tox, Urticaria urens, Hypericum, Ledum.
This is a great opportunity for budding professional Homeopaths and students to gain first hand experience of prescribing in acute settings and seeing the polycrest remedies in action.
I was taught some valuable prescribing lessons, such as:
The art of keeping things simple and practical; staying focused on what is happening in the here and now.
Choosing your rubrics very carefully; using only the most characteristic, striking and reliable symptoms from the present totality.
Asking a few questions to differentiate between the leading remedies whilst consulting reliable keynotes such as Roger Morrison, Boericke and Phatak.
Making a decisive choice in your remedy selection and prescribing with confidence, knowing that you have a good match based on the important expressions (such as modalities, sensation, aetiology etc).
If you would like to learn more about the THC, signup for an induction day or become a supporter, head over to their website.

If you're still a student, this is a great opportunity to practice acute prescribing under the supervision of a professional Homeopath. It is also a nice way to make connections and form friendships with other Homeopaths whilst enjoying the atmosphere, music and culture of some wonderful festivals. You will be sure to meet lots of fascinating individuals, have some interesting conversations and fine-hone your skills as a prescriber."
Luke Norland DSH, RSHom, BMus.
Posted in Homeopathy | Alternative Medicine | Health