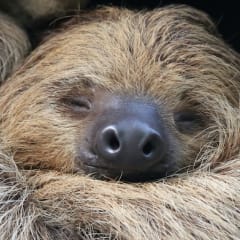 Proving of Sloth - a new homeopathic remedy
The School of Homeopathy conducted a proving of the Two Toed Sloth in Oct - Dec 2018. In the near future we will be combining all the prover diaries into one and then analysing them as if one prover. Each symptom and keyword will be reviewed and groups into sets of similar symptoms. We will also look at all the student overview essays and pull out the main themes that come through in this work. The themes of the proving diaries and these overview essays will then be compared until we have a conclusive set to work with.

Proving symptoms are then grouped around the themes and the proving overview can be written. The overview will comprise of source information about the substance – in this case the sloth – along with what we know about the Sloth in nature, history, folk law, mythology, key themes, rubrics, etc.
Once the final information is written up then the proving is ready for publication on the School of Homeopathy website and in the computer repertoires where hopefully the remedy will be used by homeopaths to help patients. As clinical information about the remedies comes in so the picture of the Sloth will expand.
Read more about the School's provings:
https://www.homeopathyschool.com/the-school/provings/
This entry was posted on 29 January 2019 at 11:07 and is filed under Homeopathy | Education | Inspiration.