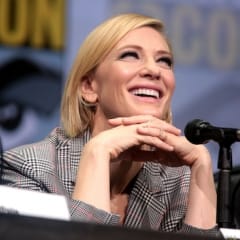 From Beckham to Blanchett - celebrities that use homeopathy
Have you tried homeopathy yet? If not, you can't deny the growing amount of support out there, especially amongst celebrities. A-listers such as David Beckham, Jude Law, Helena Bonham Carter, Jennifer Aniston and Chris Martin are all fans. They have the fame, money, and resources and like the Royal Family they choose homeopathy.

Many celebrities, such as Cindy Crawford and Roger Daltrey first discovered homeopathy because of an illness their child had, and they found that homeopathy worked where conventional medicine had not been able to help. Others, such as Jade Jagger, Carol Smillie and Gaby Roslin also use homeopathic treatments on their children, and Helena Bonham Carter managed to conceive a second time with the help of homeopathy.
Some of the more well-known supporters of homeopathy are the royals, namely The Queen and HRH Prince Charles and more recently Prince Harry and Meghan Markle. The Queen is a patron of the Royal London Hospital for Integrated Medicine (formerly the Royal London Homeopathic Hospital) and is said to never travel without her first-aid homeopathic remedy kit. Prince Charles is known for his avid support of homeopathy and in the past has received both positive and negative press for appealing to the government to promote and advance alternative medicine in the UK. HRH also uses homeopathy to great effect with the animals on the Royal Duchy Organic Farm.
No matter which side you're on, you can't argue with the stories that homeopathy works. Millions use homeopathy every year and In 2004, the World Health Organization (WHO) stated that homeopathy was the second most used medical system worldwide.1 Tina Turner writes of its effectiveness in her autobiography, "Life in the fast lane wore me down, changes in my diet and homeopathy saved me. Thanks to my homeopathic physician, for bringing me back to health and always being available for me."2 She used homeopathy to help her when she contracted tuberculosis.
Another inspiring story is the one by Roger Daltrey, lead singer of The Who, who thanks homeopathy for saving his son's life, when he was 9 months old and developed gastrointestinal issues. He stated, "I'd heard of homeopathy, so I found a local guy in the Yellow Pages, and took my boy there. He gave him some powders. Within two weeks he was putting weight on, keeping the food down. The trouble recurred periodically for a couple of years, but he's now 27, a fit and healthy young man."3
Homeopathy has a great track record in the world of sport, when David Beckham broke his foot just prior to the 2002 World Cup, he told the world of the impressive results of treatment that he got from homeopathic medicines. A study, carried out by researchers from Koblenz, found that almost all (92%) all of the doctors at German football league teams prescribe homeopathy. 4 Homeopathy has always been popular in Europe with one in three people using it in 40 of the 42 EU countries.5
Usain Bolt, the fastest man in the world is a fan. He is said to have used homeopathy since the age of 16. Annabel Croft the former professional British No. 1 female tennis player outlines her use of homeopathy. "I've used Gelsemium in the past to calm my nerves before presenting Wimbledon." Jennifer Aniston, Cate Blanchett and Emma Watson are all know to use Bach Flower Remedy which is also well known for shock and nerves.6 Annabel Croft continues, "homeopathy treats the real causes of illness in the body, not just the symptoms – as conventional medicine does. The whole concept made so much sense to me. It was a huge turning point." 7
In the UK homeopathy is widely accepted, with a recent report suggesting that as many as 1 in 8 use it every year and indicating that it is one of the UK's fastest growing sectors expanding at 20% a year. 8 In fact, the UK now has over 3000 registered practitioners and 400 doctor homeopaths.9 So maybe there is something to homeopathy after all, and maybe one day soon there will be more people in the UK willing to try something new.
Why not try homeopathy, find a registered homeopath: https://www.findahomeopath.org or enrol on a short course: https://www.homeopathyschool.com/courses/courses-beginner/
Photo by Gage Skidmore
Sources:
1. Tierney LM, McPhee SJ, Papadakis MA (Editors), 2003. Current Medical Diagnosis & Treatment. Revised ed. Appleton & Lange. Page 1701.
2. The Homeopathic Revolution: Why Famous People and Cultural Heroes Choose Homeopathy by Dana Ullman pp.162-163
3. http://www.homeopathic.org/content/the-who-frontman-roger-daltrey-has-publicly-stated-that-his-son-jamies-life-was-saved-by-hom
4. https://www.the-cma.org.uk/Articles/The-German-Football-Team-Uses-Homeopathic-Remedies-4662/
5. EU parliamentary report 1997
6. https://thehealthnuttas.com/blog//homeopathic-remedies
7. https://www.telegraph.co.uk/lifestyle/wellbeing/5576901/Annabel-Croft-Why-I-have-come-to-rely-on-homeopathic-medicine.html
8. Mintel Report of Comp Med 2007
9. http://www.britishhomeopathic.org/media_centre/facts_about_homeopathy/popularity_and_market_place.html
This entry was posted on 09 April 2019 at 11:28 and is filed under Homeopathy | Alternative Medicine | Inspiration | Health.