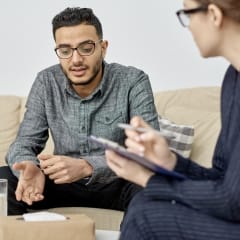 Good news for patients seeking affordable homeopathy in the UK
Affordable treatments available in Norwich and Liverpool thanks to continued funding from the British Homeopathic Association.
Cristal Sumner, Chief Executive of the BHA said: "Everyone has the right to choose high-quality healthcare and with the limited availability of homeopathic treatment within the NHS, services like these are more important than ever."
Dr Michel Raggoo, a homeopath and GP has stepped-in to oversee the running of the charitable clinic at the Rowan House near Norwich. He said "I feel very privileged to be taking over the Norwich clinic. I think the BHA is a really worthy charity and I am delighted to be able to focus on an area of medicine that has become really important to me".
Patient numbers at the clinic have steadily increased year-on-year and whilst patients are not charged, they are encouraged to make donations towards their treatment. All donations go directly to the clinic.
The BHA Norwich Homeopathic Clinic is situated at Rowan House, 28 Queen's Road, Hethersett, Norwich, NR9 3DB and opens on alternate Thursday mornings 9:30–12:30. Telephone 01603 813 999 or visit www.britishhomeopathic.org for details.
A new low-cost homeopathy clinic was also launched in Liverpool city centre last month.
The clinic, staffed by a team of three highly experienced homeopaths Dr Hugh Nielsen, Emma McEvoy and Robin Grenfell Cowan, will run on Wednesday mornings from 9.30 – 12.30 at Liverpool Medical Institution.
Private homeopathy appointments generally cost between £90-£200 for a first appointment with additional visits from £45-£100. Thanks to BHA charitable funding, an initial consultation at Liverpool Homeopathy is £20 with follow-up sessions costing £10. For more information and to book an appointment please visit www.liverpoolhomeopathy.org
The British Homeopathic Association is the principal homeopathic charity in the UK. Founded in 1902, it ensures public access to homeopathy through provision of information, education, research and direct access to care. The BHA operates a number of charitable clinics throughout the UK.
Tags: Homeopathy | British Homeopathic Association | NHS
This entry was posted on 16 May 2019 at 12:59 and is filed under Homeopathy | Alternative Medicine | Health.