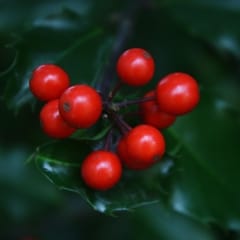 The gift of health
Christmas is set to look a little different this year. Instead of the usual parties, family gatherings and festive excesses, we are preparing for a more simple affair, with a pared down version of celebrations on the menu for 2020.
It's been a challenging year for everyone; a year in which many have had to cope with ill health and loss. Young and old alike, we've been forced to adapt to new ways of living and working, shifting our expectations and rethinking life's priorities. It is with the backdrop of the pandemic that many have found a renewed interest in health and wellbeing. We've been exercising more, exploring the great outdoors and discovering new ways to stay grounded amidst the unfolding crisis.
Many people use homeopathy to help maintain good health and vitality. This gentle and natural system of medicine has been around for over 200 years and can support us through many of life's challenges, both physical and emotional. In fact, a brand new study carried out by Securvita, one of Germany's leading health insurance companies, shows that people who receive homeopathic care are significantly 'better off and need fewer conventional medicines than those without homeopathic treatment'.
So, as we shop for friends and family in this rather unusual festive period, why not treat them to a truly precious gift. For if this year has taught us anything, it is that good health is at the heart of everything we do.
Gifts for good health
Homeopathy
Kick start a worthwhile investment in holistic health by gifting a session with a professional homeopath. Most now offer consultations online and can help with both chronic and acute ailments. Find a qualified and registered practitioner near you at: findahomeopath.org and ask for a gift voucher. Or buy a loved one a short course, something to inspire and learn from home: beginner courses.

Healthy hampers
Hampers are a Christmas staple as we enjoy preparing and sharing food together. This year, how about creating a bespoke collection of seasonal and immune-boosting goodies. Think along the lines of nut butters, warming spices such as turmeric, ginger and cinnamon, organic infusions and delicious super foods like cacao nibs, goji berries and chia seeds.
For body...
Encourage an active lifestyle by choosing gifts to keep loved ones moving. There's something to suit all budgets and interests - new running shoes, bike accessories, a map subscription app, thermal undies, a yoga mat…
...and mind
Don't forget nourishing and soothing our mind is just as important as supporting our physical health. Consider gift vouchers for a massage, sauna or a set of yoga or meditation classes.
Silent nights
There's nothing better than curling up on the sofa with a good book. Treat someone to a book that might be the start of their new health kick: Homeopathy, Nutrition, or Yoga.
And of course, don't forget to treat yourself too. Wishing you all a happy and healthy Christmas!
Source: echamp.eu/news-and-events/news/homeopathy-economical-and-effective
Photo credit: A. B. on Unsplash
Tags: Christmas | Health and wellbeing
This entry was posted on 13 December 2020 at 21:36 and is filed under Homeopathy | Health | Alternative Medicine.