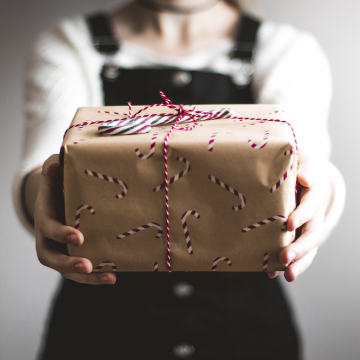 The gift of giving
Why do we give presents at Christmas time?
'Tis the season of gifting, but why and what do people really want? We think we can help…

The tradition of gift-giving at Christmastime has its roots in the intertwined history of the gift-exchange customs of the pagan festival, Saturnalia, the story of the gifts of the Magi in Christian tradition, and the life of St. Nikolaos of Myra, a 4th century bishop with a penchant for gifting. Nikolaos of Myra was an early Christian bishop of Greek descent. Known for his kindness and generosity, he was also known as Nikolaos the Wonderworker. The most famous way in which he bestowed kindness was through secret gift-giving, something he became legendary for, and this gave rise to the character of Saint Nicholas, aka Santa Claus. He died on December 6th, which became the date of the annual Feast of St. Nicholas.

With this legend of Saint Nicholas woven into the fabric of the European winter festival season, along with the gift-giving traditions of the pagan Saturnalia festival in December, it's no wonder we exchange gifts during this darkest of months. But… how to choose the perfect gift? What do people really want?

We think we have the answer… health! We suggest that what everyone really wants this year is health and happiness, and we think homeopathy can supply just that!

Here are some suggestions of what to gift to be the Homeopathy Holiday Hero of your friends and family.
Remedy Kits
With a selection of kits to get your homeopathic remedy collection started, these compact, user-friendly kits are perfect for gifting. As well as the best introductory kit around, 'The Basic 36', Helios offers a childbirth kit, a traveller's kit, and an accident and emergency kit. Every kit comes with a handy little booklet to help guide you through the remedies.
https://www.helios.co.uk/shop/search/category/homeopathic-products/first-aid-kits
Homeopathy Books
'The Complete Homeopathy Handbook' is aptly named! This really is a complete handbook, written by Miranda Castro, one of our School patrons. Beginner friendly, easy to use, and a beautiful introduction to homeopathy and the basic skills of how to repertorize to find the right remedy. This book is a thorough but approachable handbook that is a must-have on any home prescriber's shelf!
www.schoolofhealth.com/books/the-complete-homeopathy-handbook/

'Get Well Soon' is truly a little gem of a remedy guidebook for the beginner or home-user. Filled with succinct remedy descriptions geared to common maladies the home prescriber might face, it also has an illustration for each remedy, which helps with at-a-glance, and visual learning. It is also compact and lightweight, meaning it's the one you can throw in your bag when travelling!
www.schoolofhealth.com/books/get-well-soon-a-guide-to-homeopathic-first-aid/
First Aid Course
The ultimate gift for the aspiring home prescriber, our homeopathy first aid course includes a 36-remedy kit, both of the introductory books mentioned above, as well as an introductory theory book. Plus, of course, the course! Designed to take just 20 hours, you can study at home at your own pace, and you get a Homeopathy First Aid Certificate once complete. Learn how to use quick and effective homeopathic methods to ease first aid symptoms, plus an introduction to homeopathic philosophy. No prior knowledge of homeopathy or medicine required!
www.schoolofhealth.com/homeopathy/first-aid-home-course/
Wishing You and Yours a Happy, Healthy, Homeopathy-Filled Holiday!
Photo by Kira auf der Heide on Unsplash
This entry was posted on 19 December 2022 at 16:35 and is filed under Homeopathy | Education | Inspiration | Health | Happiness.