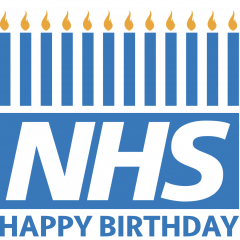 Happy birthday NHS!
On Sunday the NHS is 72. This year, perhaps more than ever before, we have much to celebrate and be grateful for. Confronting one of its gravest challenges to date, the NHS has rolled up its sleeves and looked after thousands of people suffering the worst effects of Covid-19. During the peak of the crisis, the nation took to the streets each week to applaud and thank brave carers, in recognition of their courage and fortitude in such difficult circumstances. The NHS is a true pillar of British society, protecting the health and well-being of the whole nation. Congratulations and happy birthday to the NHS.
As we celebrate we know there are continued challenges ahead. Already stretched, even when it's business as usual, the NHS has had to step-up to cope with the current pandemic, both with finances and also its wonderful, but over-burdened workforce.
Financial challenges aren't new. In 2018/2019, the NHS cost the taxpayer over £129 billion (£1935 per person in the UK) and running costs are increasing year on year. 2020 is set to be a bumper year. The NHS is struggling to provide the high level of care for which it is renowned and current events make things more challenging. Studies show that adopting a more integrated approach to healthcare provision helps reduce costs whilst bringing benefits to patients.
A recent study in France found GPs trained in homeopathy were 20 per cent less expensive than conventional GPs. The homeopathic doctors prescribed significantly fewer psychotropic drugs, antibiotics and non-steroidal anti-inflammatory drugs.1 And in Switzerland, where homeopathic provision is part of the national health care system, data shows that using homeopathic medicines can offer savings of up to 45 percent compared with conventional medicines.2
Over the last ten years in the UK, the number of prescriptions has risen by 70 per cent and in 2016 they cost the NHS £9.2 billion. In the same year £92,412 was spent on homeopathic medicines, 0.001 per cent of the total. When considering value for money, homeopathy has a role to play in a sustainable healthcare system available to everyone. If these patients were not treated with homeopathic medicines, they would have to be treated by other NHS departments and probably prescribed more expensive conventional medications.
Homeopathy has been part of the NHS since its inception in 1948 when the then government declared that homeopathy would continue to be available on the NHS as long as there were "patients wishing to receive it and doctors willing to provide it". Homeopathy has been with the NHS for every birthday since. And we hope it continues to play an even bigger role in the future, supporting the health and well-being of patients for many more birthdays to come.
On Saturday 4 July, we can all come together to light a candle in a window as a mark of respect and thanks to the NHS. National landmarks will also be lit up. There will be a minute silence for those who have lost their lives to the virus.
On Sunday 5 July at 5pm, there will be the biggest and loudest clap yet for the NHS. Join in and help celebrate.
Happy birthday NHS. And many happy returns!
Read more about Homeopathy on the NHS.
1. pg 37:Colas et al., Economic impact of homeopathic practice in general medicine in France, Heath Econ Review, 2015; 5:18, 8 Jul 2015
2. pg 38: SASIS-Datenpool Jahresdaten mit Abzugsdatum 2015, SVKH
Tags: NHS | Healthcare | Integrated Health
This entry was posted on 02 July 2020 at 14:38 and is filed under Homeopathy | Health.